American Standard Customer Care Dealer
Do You Have An HVAC or Plumbing Project We Can Help With?
Why American Standard
Residential Products
Commercial Products
Geothermal Products
Why American Standard
Every HVAC company has a choice of what manufacturer and products they want to use for their customers. They commit to that manufacturer and supply house for various reasons. Some companies make their choice based upon the perks offered as sales incentives. Other companies choose the products that will yield the highest profit. Absolute Comfort has and will always choose the products that are the best for our customers. We regularly research our product lines and make changes when needed.
After years of experience repairing, servicing and installing HVAC systems we chose to partner with American Standard to bring our customers the very best heating and air conditioning systems available. While the ratings for American Standard Heating and Air are amazing, it was our experience that drove our decision. Through the years we have helped numerous customers whose furnace or air conditioner stopped working. On so many occasions their HVAC system let them down at the most inopportune times. Many times our customers found themselves in desperate need when their system failed in the coldest night of winter or in the heat of the summer with family coming to visit. Regardless of when the system fails, it is always frustrating for our customers. After fixing numerous HVAC systems, one fact was astoundingly clear to us. We were rarely called to fix an American Standard air conditioner, furnace or heat pump.
The research also confirmed what our experience found to be true. In a recent Consumer Reports article titled, "Most Reliable Central Air Conditioning Systems" by Mary H. J. Farrell on April 17, 2018, it stated the following "Two-thirds of the owners of American Standard systems are likely to be completely satisfied with the performance of their AC system by year five. Owners of Goodman systems are predicted to be the least satisfied, followed by Rheem." In a time when so many things seem to be created to break down, it is refreshing to see a company that makes their HVAC systems to last.
Residential Products
Commercial Products
Geothermal Products

We are proud to partner with American Standard Heating and Air as a Customer Care dealers as we continue to strive to make and keep our customers comfortable all day every day!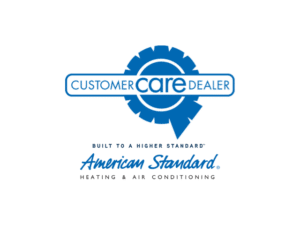 Contact us today to get a quote or to receive more information on an American Standard Heating and Air Conditioning product.